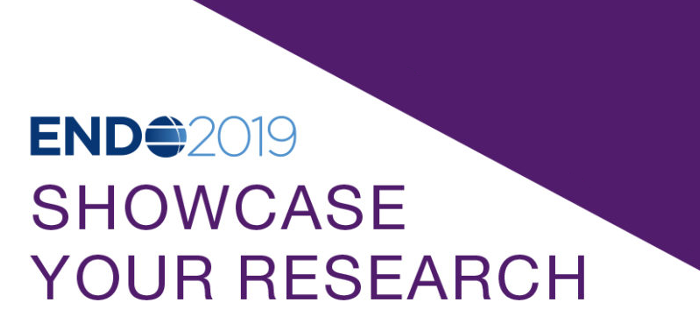 Start planning your trip to the world's premier endocrine science and medicine event.
ENDO 2019 is coming to the Ernest N. Morial Convention Center in New Orleans, LA, from March 23-26, 2019. It promises to be an experience you can't miss with an extensive program featuring cutting-edge science, poster sessions, Meet-the-Professor sessions, the newest products and technologies at ENDOExpo, and more.
Enjoy opportunities to network and collaborate with your colleagues amid the vibrant food and culture scene of our host city, New Orleans. Bookmark this page and check back regularly for updates.
Key Dates
Abstract Submissions are open through November 7, 2018
Early Registration Opens: October 25, 2018
Bringing together leading experts and researchers, ENDO highlights and facilitates breakthrough discoveries—from bench to bedside—that will help advance the field of endocrinology. Abstracts for ENDO 2019 are being accepted through November 7, 2018

REACH AN ENGAGED AUDIENCE
Your peers rely on ENDO to learn about the latest breakthroughs that will help advance science and shape the future of patient care.

GET PUBLISHED
All accepted abstracts will be published in a supplemental issue of JES. Abstracts will be assigned a DOI, and Clarivate will index them for Web of Science.

GENERATE MEDIA BUZZ
News articles highlighting ENDO 2018 reached nearly 4.6 billion unique visitors on digital media outlets and nearly 5.9 million print circulation and broadcast audiences.
ENDO Travel Awards
Our ENDO travel awards provide travel support to students, fellows, and junior faculty to attend the Endocrine Society's Annual Meeting & Expo. The Society provides both:
Program Preview
Here's a preview of just a few of this year's most cutting-edge sessions:
Presidential Plenary: Whole Genome Approaches to Unraveling Diseases
Francis S. Collins, M.D., Ph.D., Director, NIH, Bethesda, Md.
Utilizing Big Data in Science and Clinical Care
Cori Bargmann, Ph.D. Rockefeller University, New York, N.Y., and head of the Chan Zuckerberg Initiative's science work
Robert Califf, M.D., Duke University School of Medicine, Durham, N.C., and former FDA Commissioner
Gene Editing and Stem Cells: Using Reproductive Technology for Early Disease Treatment
Juan Carlos Izpisua Belmonte, Ph.D., Salk Institute, La Jolla, Calif.
Marisa Bartolomei, Ph.D., University of Pennsylvania, Philadelphia, Pa.
Novel Therapeutic Targets in Metabolic Disease and Cancer
Myles Brown, M.D., Dana-Farber Cancer Institute, Boston, Mass.
Peter J. Tontonoz, M.D., Ph.D., University of California-Los Angeles, Los Angeles, Calif.
Hormone Science to Health: The Endocrine Society Goes to the National Academy of Sciences
Barbara B. Kahn, M.S., M.D., Beth Israel Deaconess Medical Center, Boston, Mass.
Christopher Glass, M.D., Ph.D., University of California – San Diego, La Jolla, Calif.
Mitchell A. Lazar, M.D., Ph.D., University of Pennsylvania
Targeting Senescent Cells in Aging and Disease
Jan M. van Deursen, Ph.D., Mayo Clinic, Rochester, Minn.
Sundeep Khosla, M.D., Mayo Clinic College of Medicine
ENDO 2019 Exhibiting
For details and to reserve your booth, please visit our exhibit management site, or see our exhibitor prospectus on basic science and clinical care.
Protect Yourself from ENDO 2019 Hotel Scams
When a predatory housing company offers you a room for ENDO 2019, it is likely an empty promise. The best room rates at properties close to the convention center will be available through our housing booking site this fall.
For your protection, please do not book your room through an unofficial company. You run the risk of paying a high rate or being stuck far from the meeting. These companies are not authorized to represent the Endocrine Society, nor do they have access to our officially contracted room blocks or rates.
To ensure you secure an affordable hotel room near the convention center, make sure to take advantage of the great offers on our official booking site when it opens in mid-October 2018. We will notify you when the online reservation system is available.
If you are concerned about a solicitation from a pirate housing company, please contact Director of Meetings Ayuko Kimura-Fay.
Highlights from ENDO 2018
The ENDO 2018 program offered attendees the opportunity to learn about the latest developments from renowned investigators, expert clinicians, and educators from across the globe. View the full ENDO program as well as abstracts presented.
Experience the best of ENDO 2018 with on-demand access to more than 200 clinical and translational presentations covering the latest advances and major developments in endocrinology.
https://www.endokrinologiki.med.uoa.gr/wp-content/uploads/2018/10/asdfasdfasdf-1.png
700
700
endoclinic
https://www.endokrinologiki.med.uoa.gr/wp-content/uploads/2019/02/gr.png
endoclinic
2018-10-08 16:08:24
2018-11-13 22:18:03
ENDO 2019