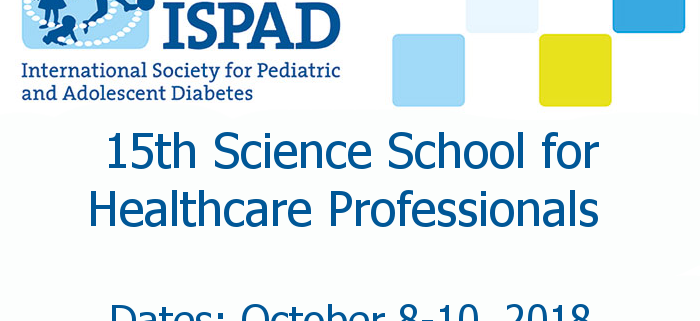 10/8/2018 to 10/10/2018
When:
Monday, October 8, 2018
Where:
Hyderabad
India
We are pleased to announce that you can now apply for the 15th ISPAD Science School for Healthcare Professionals, which will take place three days before the ISPAD's 44th Annual Conference in Hyderabad, India.
The three day Science School is a foundation course in research methodology designed for allied healthcare professionals (dietitians, nurses, psychologists, and social workers) who have or wish to develop a research interest in diabetes in children and adolescents.
Key Information:
Dates: October 8-10, 2018
Location: Hyderabad, India
Closing date for applications: April 22, 2018 – 17:00 CET
If you have a dietitian, nurse, psychologist or social worker in your team who is interested in diabetes research or who would want to implement their own science ideas, then they should look to attend the ISPAD Science School for Healthcare Professionals. During the workshop, running over 3 days, we will discuss and improve their scientific background, knowledge in research methodology, data analysis and abstract writing together with 15 students and science experienced faculties from all around the world.
Student places will be limited to 15 and one applicant per hospital/centre. Applications will be assessed by the Science School Lead Conveners. Accommodation, meals and educational materials during the Science School will be covered by ISPAD. Economy travel to attend the Science School will also be arranged by ISPAD.
To check the criteria for applying for the school, please read the announcement below:
2nd Announcement for the SSHP in Hyderabad, India
Once you have read the above criteria, you can apply for the School by filling in the application form here!
https://www.endokrinologiki.med.uoa.gr/wp-content/uploads/2018/09/00a0a0.png
700
700
endoclinic
https://www.endokrinologiki.med.uoa.gr/wp-content/uploads/2019/02/gr.png
endoclinic
2018-09-08 16:33:17
2018-11-13 22:19:35
15th Science School for Healthcare Professionals 2018, Hyderabad, India